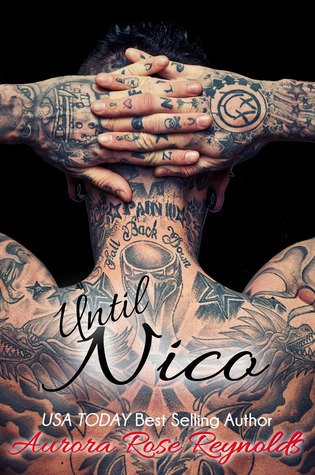 Gosh Darn just look at that cover,doesn't it make you wanna melt!
Aurora Rose Reynolds has done it again she mastered another Mason brother and man oh man Nico was off the hook! I have read and re-read all of the Until series books I can never get tired of the Mason brothers there is just something about them!
Nico the unique one out of the brothers Asher,Trevor, and Cash. He lives in the city and is a bounty hunter rather than working in the family's construction business. He is all tattooed pierced and every ladys bad boy dream. Until he meets Sophie when she looses her cell phone and he finds it, and when he sees her for the fist time BANG....
She is his BANG! You all know about the Mason curse if you have read all the other stories.When they get there BANG it is it for them they fall hard and fast.
Sophie comes from a broken home she lost her mom when she was 15 and her dad started drinking and some awful stuff happened to her. She became closed off until she meets Nico she feels safe and he loved her from the get go. He wants to knock her up fast so there is plenty of hot steamy sex
It Burning up thru out most the book. It is just to adorable.
Asher will always be my favorite brother but I still love all the Mason Men!