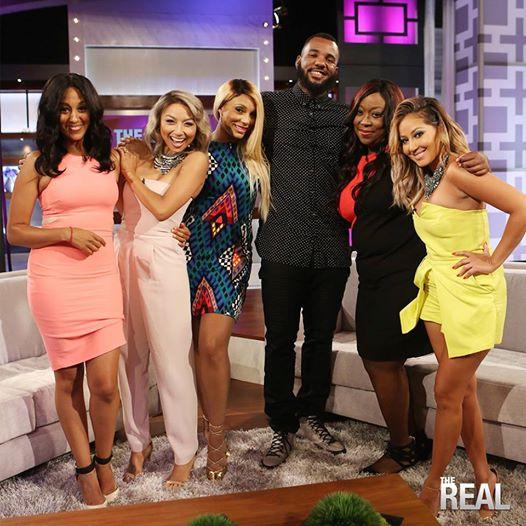 Sensational day time talk directed at
the ladies of TODAY!!
I was super excited for The Real to premier today!
I wasn't able to watch the
test run last year as it did not air in my area,
but heard WONDERFUL things about it.
Being a younger stay at home mom
I always wanted a talk show with woman near my age and finally it has come.
I needed my voice to be heard and these ladies are doing it!
I know I am usually a blogger about books, but could not resist writing a little
something something about The Real. I think these ladies will give us a show
like no other that us younger ladies need .
I am the ripe old age of 24 and needed some spunk and ate the season opener up like a scrumptious piece of cotton candy.
Tamar Braxton
you may know hear for being the baby sister on the hit show
Braxton Family Values which airs on WE TV , and also has her own reality show
with husband Vince and there son Logan who by the way is now one time sure does fly.
Tamar brings the tell it like it is attitude to the show and I think it will give the show a kick
like no other. Love her personality, she reminds me sorta like the friend that will be honest
and tell you "Hoochie those jeans make your ass look FAT" LOL.
and on her reality show Tia and Tamera which stars her and her twin sister.
She is married to one handsome hubby and has a adorable son as well.
Tamera is the one who is gonna surprise us. She is sorta the wholesome
mom next door who will bring you cookies for Christmas and is chair of the PTA.
I think she will surprise us because she will show us a side like no other, but will
give her two sense when needed. Sweetheart all over and gorgeous!
Loni Love to be totally truthful I used Google to find out the scoop on her,
because I had no idea who she was. I found out Loni is a comedian and actress
she was a guest DJ on Ellen and that is where I knew I seen her LOL.
She is the Momma Bear of the bunch I aint gonna lie I think it is a great idea!
she is my moms age yes I do have a young mom ,but damn if momma cant
shake it like no other. Loni also brings it because she is super funny. I
like that she is plus size and works it, good to show us ladies can be beautiful
and curvy and still have that bubby personality!
Jeannie Mai you may know her from her show How Do I Look?
She know how to dress and is soo freaking funny. She is married haven't seen
her husband, but I have a feeling her is tall. Jeannie reminds me of the girl you
cant help but want to be friends with, like a little pixie sprinkling fairy dust
everywhere she goes. She and me may butt heads, but I think
she will bring a good flavor for the show. I really hope she has a make up segment!
Adrienne Bailon is one sexy mamacita showing my Hispanic/Latino ladies some
love! Adrienne you may know her from Cheetah Girls, 3LW or maybe from her
reality show she did with Julissa called Empire Girls. I saved Adrienne for last
because she reminds me of myself. I am something else with a lot of fire in me and so
is she. Plus we are petite gals LOL. Hey now short girls rock it!
Adrienne is going to bring us some spicy flavor, she has had a life with some
very jagged turns and I think her effervescent personality will go great with the
girls in a younger age group. I relate to her in every which way and feel like I am
the girl sitting there on the panel!
Todays episode was all about getting to know the girls.
I loved when they talked about getting cheated on and trust.
Tamar
was the one who I agreed with the most she said she don't let Vince have
no social media stuff, and I dont either me and my man share a FB
and its not that I don't trust him its just that is how it is.
Tamera was spot on tho when she said she sorta jumps to conclusions when
seeing a message or email from a chick to her hubby and she has
a bunch of scenarios going thru her head. LOL I do it to I think the worst.
The Grab Bag was freaking AWESOME Loved the candy apple red color.
Congrats to the audience winner!
The Game was on and he is so smoking HOT Loved the beard haha and
answered the parenting questions like my hubby would. Wants to be the
cool parent. I cant wait for his new Album to come out.
Yep I am secretly Gangster bumping it in the car! LOL
The Real News Segment I don't know how I feel about that one yet!
A little blah on it. I did love the boot selection Tamera honey you
had a style right up my ally LOVED those boots I want them!!
Tamar honey you be to sexy I would look like a hooker walking around in those.
Loni fire red I don't know about that honey. Jeannie and Adrienne Hell
to the NO for me just not my style. I stick to my good ol Cowboy boots!
Cant wait to tune in Tomorrow this show is gonna be my daily thing and
Let me know if you guys can see a daily blog about it!?
I will be
live tweeting when I watch so join me @Morningbooks123
tomorrow
at 4:00pm EST time when I am tweeting live while watching!
I don't have a DVR so if I miss a show I am screwed but I will try my best to
watch every single episode if I can so comment or hit me up on FB or Twitter and
let me know what you all think of a THE REAL daily blog post!!
If you didn't catch it today please tune in tomorrow
I promise you guys will just love it!!